Getting to Ottawa
Ottawa is only 200 km from Montreal and just over 400 km from Toronto, making it an easy drive for many delegates. Ottawa International Airport (YOW) serves the Greater Ottawa Region with daily direct connections to/from Canada's largest cities and many US and international destinations  (IATA: YOW, ICAO: CYOW – https://yow.ca/en)
If booking to Ottawa (YOW) on Air Canada, please use the following promotion code: KXF36HM1
The booking is to be made to the following city: Ottawa, YOW (ON)
The travel period begins Sunday, October 22, 2023 and ends Thursday, November 09, 2023.
Flash Your Badge Program
The Flash Your Badge Program grants delegates and a guest access to discounts and special offers at participating attractions, tours, and restaurants. There is no registration required to utilize this program – delegates can simply present their badge at participating retailers to receive the advertised discount.
*Reservations may be required
download QR code from (https://ottawatourism.ca/sites/default/files/images/2023/04/QR-FYB-EN.png )
more info under: Convention Services Portfolio | Ottawa Tourism
Taxi
Taxis are stationed outside the airport at all times. For transportation to/from the airport, your hotel is happy to arrange a taxi to pick you up. Ride time: 30-40 minutes and the Fee is CAD $35-$40
Bus/O-Train – Public Transport
The bus/O-Train is a good option as long as you don't have a lot of luggage. It will take about 30 minutes from the airport to downtown. The bus has an automated announcement system so you'll be able to hear when to get off (the next stop is also displayed at the front of the bus).
Going around Ottawa
Whether you're going from Ottawa east to Ottawa south, west or downtown Ottawa to Gatineau, or vice-versa, OC Transpo (http://www.octranspo.com/) can take you. OC transpo provide comprehensive transit services to nearly one million people in Ottawa. The OC Transpo fleet has over 900 buses and six trains serving our nearly 340,000 daily riders.
The city bus cost $3.70 each trip, $11.25 a day pass $27.75 a 3 day pass and $52.75 a weekly pass with bus tickets. Because it has a dedicated right-of-way and limited stops, the bus will be nearly as fast as a taxi at normal times, possibly faster during rush hours.
OC Transpo's mandate is to deliver safe, reliable, and courteous service at a reasonable price. Transit use benefits the community by reducing greenhouse gas emissions, traffic congestion, and the requirement for more roads.
Things to do in Ottawa
Parliament Hill
The seat of Canada's federal government and the setting for national celebrations the year round, Parliament Hill is the most visited Ottawa attraction.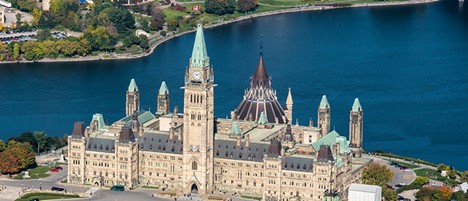 ByWard Market
The ByWard Market is just east of Parliament Hill. It's an historic farmers' market and shopping district by day, and a lively restaurant and club district by night.
National Cultural Attractions
Whether it's the stunning National Gallery of Canada, with world class art on display, or the dramatic Canadian War Museum, these are the experiences that bring Canadian culture to life.
UNESCO Rideau Canal
A historic waterway and the world's largest naturally frozen skating rink in winter – the Rideau Canal winds through the heart of Ottawa before connecting with the Ottawa River through dramatic stepped locks right next to Parliament Hill.
Performing Arts
The Capital's premier performing arts venue, the National Arts Centre, presents music, dance and theatre, plus popular touring acts and shows. Ottawa also has a thriving local theatre scene, including the Great Canadian Theatre Company and Ottawa Little Theatre.